The world is full of stimuli and choices, which makes it difficult to determine what's important. I want to emphasize what I, from my own experience, consider that to be. Through simple lines and subtle colors my work is muted so that the message is clear. My inspiration comes from my relationships with friends and loved ones, love of nature and my fascination with dolls.
I always work with models with whom I have an intimate friendship. The trust and love I feel for my them is essential in my creative process. The moment I portray someone I not only try to capture their appearance, but also a piece of their soul. I strive to make work the viewer can empathize with so they can project themselves onto the image. The interaction where a doll or doll-like image asks for, is for me a way to ensure that the viewer will be invited to build a relationship with it. This creates an exchange of identity between the viewer and the image, which conveys the feelings between me and the portrayed. Through reflection on those feelings the viewer can experience my motives and purpose.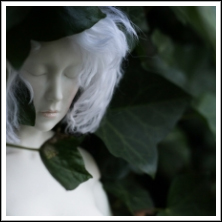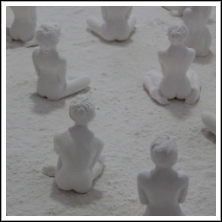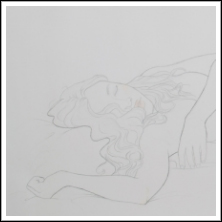 De wereld is vol prikkels en keuzes, waardoor het vaak moeilijk is om te bepalen wat belangrijk is. Vanuit mijn eigen ervaring wil ik de nadruk leggen op wat ik belangrijk acht. Door middel van eenvoudige lijnen en subtiel kleurgebruik verstil ik mijn werk zodat de boodschap duidelijk naar voren komt. Mijn inspiratie haal ik uit mijn relaties met vrienden en geliefden, liefde voor natuur en mijn fascinatie voor poppen.
Ik werk altijd met modellen waar ik een intieme en vriendschappelijke relatie mee heb. Het vertrouwen en de liefde die ik voor mijn vrienden en geliefden voel, is onontbeerlijk tijdens mijn creatieve proces. Op het moment dat ik iemand portretteer, probeer ik niet alleen het uiterlijk te vangen maar ook een stukje van de ziel, ofwel persoonlijkheid. Ik streef ernaar werk te maken waarin de kijker zich kan inleven, waarbij die het beeld op zichzelf projecteert. De interactie waar een pop of op een pop gelijkend beeld om vraagt, is voor mij een manier om ervoor te zorgen dat je als kijker uitgenodigd wordt een band op te bouwen. Zo ontstaat er een uitwisseling van identiteit tussen de kijker en het beeld en inleving in de gevoelens tussen mij en geportretteerde. De inleving in die gevoelens kan de kijker inzicht geven in mijn drijfveer en doel als kunstenaar.
——————
In my thesis I researched why we are attracted to dolls. Primarely I was interested in that question, but along the way I learned a lot about my own art and my way of viewing art.
I published it online for whoever is interested in reading it.
"Contouring Dolls"